Trojan Board of Directors
The Trojan Board of Directors is a group of volunteers that supports the athletic department through a variety of activities throughout the year, including the annual Steve Sarkisian Heritage Golf Tournament.
For further information on getting involved, please call USC Athletics at (213) 740-4155 or email athdev@uscedu.
| | |
| --- | --- |
| President | Dan O'Brien |
| Vice President | Clayton Olivier |
| Treasurer | Harry Hill |
| Secretary | Chris Tuppan |
| Golf Chairman | Gary Crisp |
| Asst. Golf Chairman | Bo Mouissat |
| Tailgate Chairman | Mark Tanimura |
| Desert Chairman | Dan Trapp |
| Special Projects Chair | Bo Mouissat |
| Past President | Stu Weinstein |
| | |
Upcoming Events
17
Oct 17 - 2015
TIME: 1:00 PM - 1:00 PM
Travel with the USC Athletics from Chicago to South Bend on the Trojan Express.  The train will depart from the Randolph Street Station in downtown Chicago.  Departure time will be approximately 1:00 PM (CST).  Complete details will be included with your train tickets and confirmation letter.  $200 per person.  After August 1st, the price per person will be $250.  The price includes round-trip transportation from Chicago to the football stadium in South Bend, light lunch, snacks, refreshments, light dinner, special souvenir, game program, rain poncho, and a pom pom.  Train reservation orders will be filled on a first-come, first-served basis.  Train tickets will be mailed in early October. This will sell out!
For additional information please call Trojan Athletic Fund at (213) 740-4155.
GAME TICKETS ARE NOT INCLUDED.
You may register online at www.usc.edu/trojans and enter your 8-digit donor ID number which begins with a zero.
24
Oct 24 - 2015
TIME: 2:00 PM - 5:00 PM
Join us for a fabulous pregame picnic before the Trojans take on Utah for Trojan Family Weekend!
Click here for more information and to register:  www.usc.edu/trojans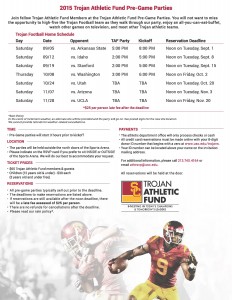 7
Nov 7 - 2015
TIME: 2:00 PM - 5:00 PM
Join us for a fabulous pregame picnic before the Trojans take on Arizona for Homecoming!
Click here for more information and to register:  www.usc.edu/trojans